Special assistance
We want everyone who travels through our airport to have a great experience, regardless of their needs. We know airports can be stressful for many people and our services aim to assist all passengers on their journey through Jersey Airport.
Accessible website through ReciteMe
To ensure all our customers can access information and services barrier-free, we now provide accessibility and language support on our website.
You can activate this support by clicking 'Accessibility options' located on the top right corner of our website.
Choose from a range of features including translation into more than 100 languages, text to speech functionality, reading aids, and styling options. This includes adjustments to colour, font type, and size.
Accessibility is extremely important to Ports of Jersey and we are committed to helping everyone online to view content in a way that works best for them.
Ahead of your flight
For peace of mind, we advise you to plan your travel carefully and always book assistance at least 48 hours prior to travelling. Arrangements can then be made to ensure your requirements are met. If you are planning to travel with your own electric wheelchair, you must advise your airline in advance as some aircraft are restricted to what it can carry.
Please check in at least two hours before the stated time of departure.
At the airport
All shopping, catering outlets and toilet facilities are on the ground floor. The first floor viewing lounge, which overlooks the aircraft stands and taxiway, can be accessed by lift. This is located by the Passenger Assistance desk, after clearing security. For passengers who have confirmed special assistance requests, a Passenger Assistance waiting area is available immediately after the World Duty Free retail outlet, as well as the landside area of the Departures' Terminal.
Complimentary use manual wheelchairs are provided at Jersey Airport, should you require one. Hard of hearing induction loops are located in the Passenger Assistance area and adjacent to the Information Desk in the Departures' Terminal, as well as in the TV seating lounge in the airside Departures Lounge.
Only guide and hearing assistance dogs are permitted in the Terminals and must be kept on a lead at all times.
AccessAble access guides
Ports of Jersey has worked with AccessAble to create Detailed Access Guides to 14 different areas of Jersey Airport, including arrival and departure terminals. The guides are 100% facts, figures and photographs to help travellers plan their journeys to and around the airport, covering everything from parking facilities and hearing loops, to walking distances and accessible toilets. We know everyone's accessibility needs are different, which is why having detailed, accurate information is so important. This is why all of the details you'll find in the Guide have been checked in person, by trained surveyors. To view the guide simply click here.
AccessAble, the organisation that provides Detailed Access Guides has also produced a mobile App, which aims to transform the quality and availability of accessibility information.
The App is available free for iOS and Android; users can create a profile, save their favourites and set their own preferences using AccessAble's Accessibility Symbols.
To check out the App, simply download AccessAble from the Apple Store or Google Play Store. Feedback is always welcomed by emailing hello@AccessAble.co.uk or give them a call on telephone +44 (0) 1438 842710.

Distances
Below is a map showing the approximate time and distances in meters of various points within the Airport. There is also a downloadable version.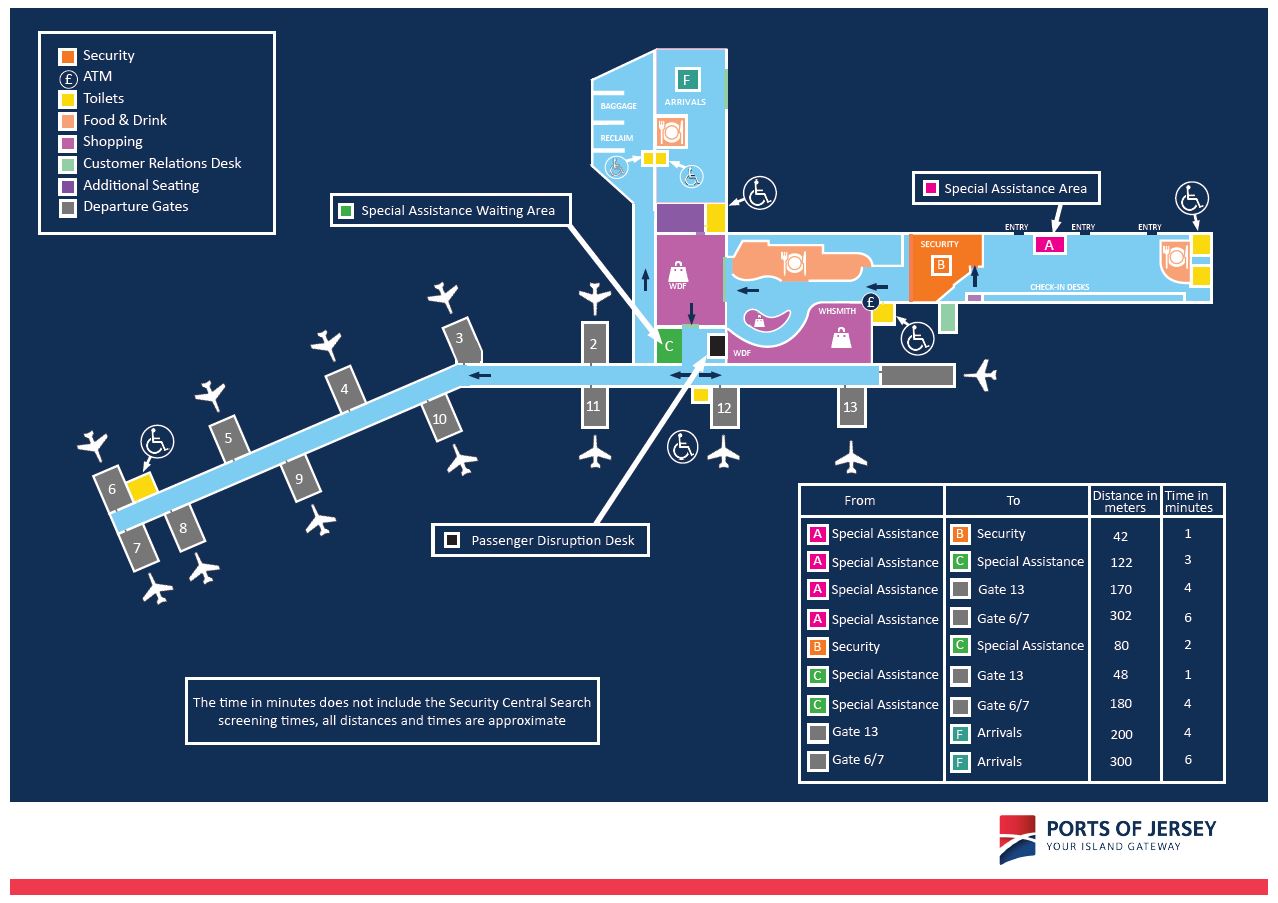 'Hidden Disability' lanyard scheme
We strive to enhance the airport experience for passengers who may not want to share details of their hidden disability or use the assistance service.
If this applies to you, or someone you're travelling with, we can provide you with a complimentary 'Sunflower' lanyard or pin to wear on your journey. This will identify you to staff as someone who may need additional support or understanding. Our staff have been trained to recognise these lanyards and act accordingly.
To pick up a lanyard or pin badge on the day of your departure at Jersey Airport, visit the Special Assistance Desk or Information Desk in the Departures' Terminal before proceeding to central security search.
If you already have a similar sunflower lanyard, pin badge or sticker, you may use these in the airport as you do elsewhere.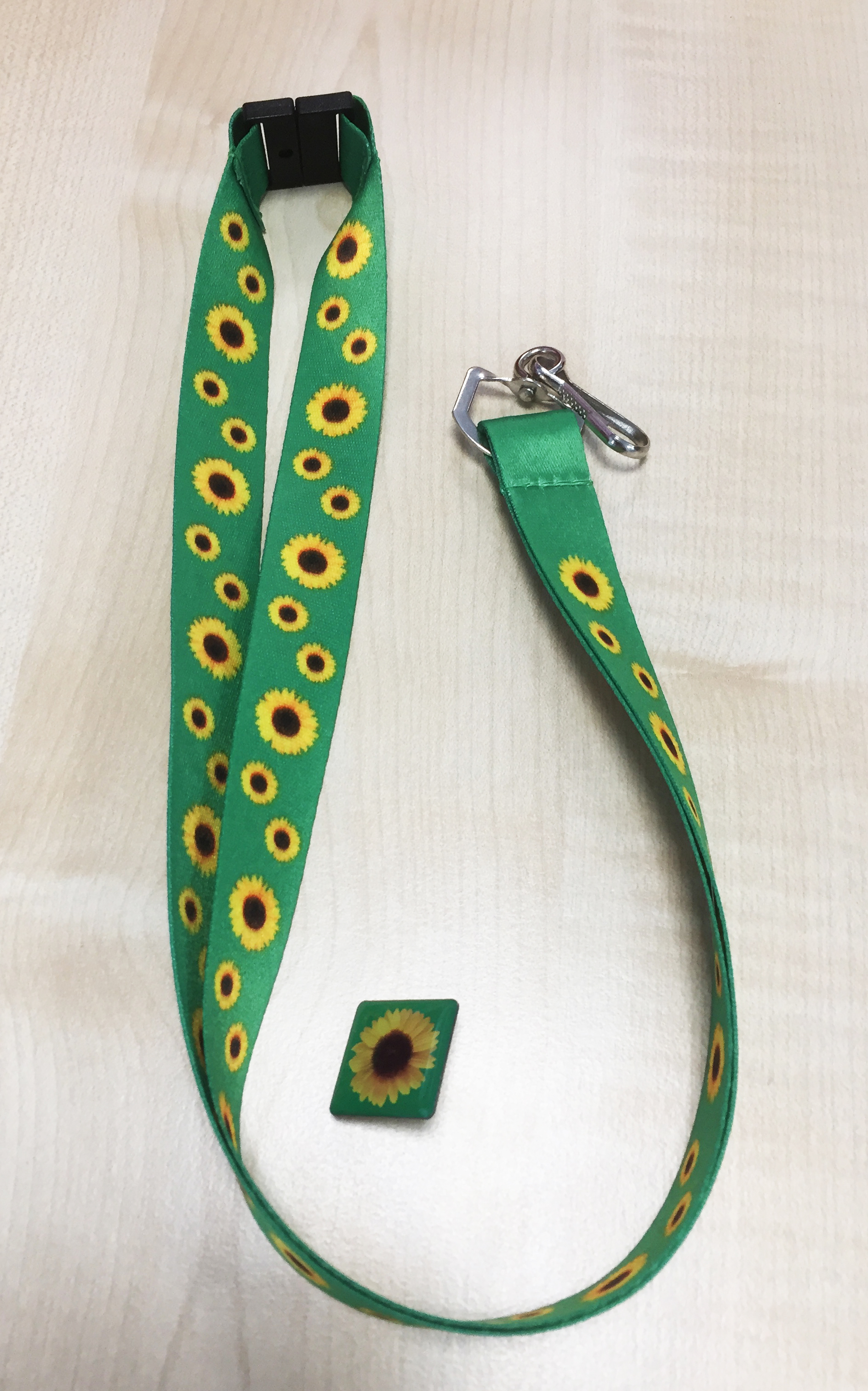 Parking
Disabled parking spaces are available in both car parks within easy walking distance of both terminals.
For drivers parking in a disabled bay in the main car park a temporary parking permit is available to allow the driver to take their 'Blue Badge' off island. To collect a temporary permit please visit the Customer Relations desk in the Departures' Terminal with your Blue Badge and proof of travel.
Payment for parking can be made via the automated pay machines, which are located in both the Departures' and Arrivals' Terminals as well as in the main car park.
If you are visiting the Island you can obtain more information on facilities and services available to you island-wide by contacting Visit Jersey on +44 (0) 1534 448 877.
Preparing for security
Security staff are available to assist you through the security process and can provide you with walking aids while yours are being screened.
Wheelchairs will inevitably activate the alarm, which will require a hand search of the passenger and chair. If you feel uncomfortable with this process, a private search can be arranged.
Special assistance desk
A dedicated facility is available at Jersey Airport specifically for those passengers who have pre-booked assistance directly with their airline. It is operated by our business partner Swissport, who look after passengers from a number of airlines, including easyJet, Blue Islands and Jet2. There is no change to the British Airways passenger assistance process.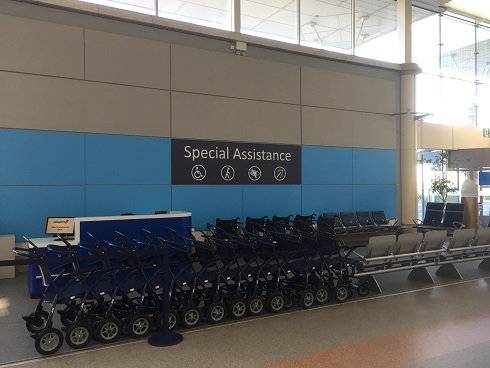 Special Assistance – extra information
If you need special assistance – we're here to help. Find out more below about the different types of assistance Jersey Airport offers, how to book plus any other questions you might have.
How to know if you need assistance
If you have a condition or disability and you feel that assistance from staff at Jersey Airport would make your journey easier, then you should contact your airline to book assistance. From difficulties with mobility, to hidden disabilities like Alzheimer's and ADHD, our staff are on hand to help you every step of the way.
If you have a disability or you experience mobility difficulties and need help to get to your flight, you should contact your airline at least 72 hours before you fly to let them know you need assistance.
If you arrive at the airport without booking special assistance, please head straight to our Special Assistance Desk located in the Departures' Terminal and we will try to help as best we can. However, priority is given to passengers who have booked assistance in advance.
If you have a condition/disability, but don't want special assistance
If you feel you don't need assistance through the airport, then that is entirely your choice. We do offer a special lanyard for our passengers with hidden disabilities or where you do not want to share the details of your disability. This will identify you to staff as someone who may need additional support or understanding and our staff have been trained to recognise the lanyards and assist accordingly.
Receiving assistance on your flight
To get assistance at the airport, you need to book this service directly in advance of travelling with your airline, so they will be aware of your needs. Your assistance will continue for as long as you need it on your journey.
Staying with your family or group through security, if you have organised special assistance
If you have booked special assistance and are unable to travel through the airport without a carer or companion, we will ensure that they can accompany you throughout the entire journey. If you are travelling in a larger group, it would be best to nominate one person to stay with you.
Travelling with a guide dog
Guide and hearing dogs are the only dogs allowed into the terminal buildings, except for those animals travelling on flights.
It is important that you make sure your airline is aware that you are travelling with your assistance dog, at least 72 hours before you travel so that you are given the support and assistance you require. When you arrive at the airport, go to our Special Assistance Desk in the Departures' Terminal where staff will be happy to help you. A toilet provision can be made available for guide dogs; please ask an airline representative.
Any dogs travelling out of the UK must be fully vaccinated and micro-chipped and need to be registered with the European Pets Travel Scheme (PETS) and importation rules of other countries outside the EU.
Travelling with your own mobility aid
You are welcome to travel with your own mobility equipment, such as wheelchairs, mobility scooters or walkers, but you must advise your airline of this in advance of travelling.
If you are travelling with an electric wheelchair or mobility scooter, staff will meet you at the departure gate to help you make sure your scooter is safely turned off for the flight or your wheelchair folded. It helps keep delays to a minimum if you know in advance how your device works.
When you arrive at Jersey Airport, provided you have advised the airline in advance, your wheelchair or mobility aid should be there as you disembark the aircraft. Staff will unload your wheelchair or scooter from the hold, along with the other baggage that's carried in the hold. Once this has been unloaded it will be brought up to the aircraft door.
In the unlikely event that your mobility aid is lost or damaged during flight, then report this immediately to the airline. You will need to complete a report in the baggage reclaim hall and you will get a reference number.